Famous jigsaw puzzle brands can serve as a metaphor for dealing with awkward situations. In the same way, we artistically piece together puzzles, we can also master the art of transforming potentially embarrassing moments into fits of laughter. From simple educational jigsaw puzzles for kids to the more complex and challenging ones for adults, these products jigsaw puzzles have been a source of fascination and fun for both children and adults worldwide for centuries.
However, not all jigsaw puzzles are created equal. The quality varies greatly amongst the numerous puzzle brands available on the market today. That's where identifying the famous jigsaw puzzle brands known for their quality becomes essential for puzzle enthusiasts.
Recognizing a high-quality jigsaw puzzle brand involves paying attention to various aspects. These include sturdy puzzle pieces, a glossy finish, unique images, fine art or artwork, a high-resolution puzzle image, and a puzzle box that keeps the pieces safe. These elements contribute to a pleasant and fulfilling jigsaw puzzle experience and are the signs of the best jigsaw puzzle brands in the world.
Famous Jigsaw Puzzle Brands
Let's look at some of the most respected jigsaw puzzle brands out there whose commitment to quality is evident in their premium puzzles:
Ravensburger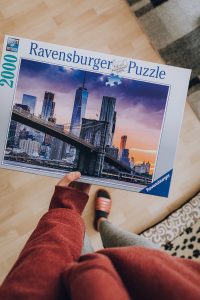 Arguably one of the most famous jigsaw puzzle brands is Ravensburger. Founded in Germany in 1883, Ravensburger is renowned for its exceptional quality. Ravensburger puzzles use exclusively developed, extra-thick cardboard combined with fine, linen-structured paper to create a glare-free puzzle image, ensuring you get the best jigsaw puzzle quality in your hands.
Ravensburger provides a wide selection of puzzles with unique images ranging from fantasy, wildlife, and landscapes to Claude Monet's paintings, amongst other themes. Ravensburger puzzles' puzzle box includes a leaflet with information on the image and the puzzle's artist, ensuring an enriching experience for any art fan.
Another notable point about Ravensburger is its value to its customers. Experienced puzzlers often complain about puzzle dust – a common nuisance that stems from poorly-cut puzzles. But with Ravensburger, you will encounter little to no puzzle dust. Such attention to detail underscores why Ravensburger is synonymous with the best jigsaw puzzles in the world.
Buffalo Games
Buffalo Games is a titan in the puzzle industry born in the US. They are known for their beautifully crafted puzzles that depict popular scenes from pop culture, nature, and fine art. All Buffalo Games puzzles are manufactured using a precision cutting technique that guarantees every piece will fit perfectly. The pieces are thick and sturdy with a semi-gloss finish that helps to reduce glare.
Buffalo Games puzzles come with a poster of the same image that's included in the puzzle box, which allows puzzle-lovers to have a clear reference of the completed image. Additionally, if you have missing pieces, Buffalo Games offers a lost-piece service that adds to its appeal as one of the best puzzle brands around.
Springbok
Springbok has been a keen player in the jigsaw puzzle world since 1963. Best known for their uniquely designed, irregularly shaped pieces, Springbok puzzles offer a fun challenge to experienced puzzlers. Moreover, the brand prides itself on providing puzzles made from thick chipboard and printed using high-resolution images, ensuring that no two puzzle pieces are alike.
Springbok's selection is vast, offering over 400 different images that range from 36 pieces to 2000 pieces of puzzles. Its portfolio isn't just limited to traditional images but also features puzzles with 3D effects and other creative twists.
Springbok's dedication to its quality and uniqueness can be experienced right from opening the puzzle box, which is sturdy and carefully designed to store your puzzle pieces for years to come.
Cobble Hill
Cobble Hill is a prominent Canadian brand, famous for its premium quality and the wide variety of its puzzles. Their puzzles boast a linen finish, reducing unwanted glare and offering a tactile, premium feel.
Cobble Hill puzzles depict everything from quaint European villages to cute animals and nostalgic themes. The brand is also well-known for its "random cut" pieces, which add an extra level of challenge for jigsaw devotees.
Eurographics
Lastly, Eurographics is notably popular in the puzzle world, especially amongst art lovers. This brand offers a range of puzzles that feature masterpieces from famous artists such as Van Gogh, Da Vinci, and Monet. They pride themselves on high-quality puzzle pieces, ensuring the preservation of fine detail from the original work of art.
In addition to its beautiful reproduction of famous art, Eurographics also produces puzzles featuring historical, scientific, and pop culture themes. For any serious puzzler out there, Eurographics offers new and intriguing challenges to enjoy.
Moreover, these famous jigsaw puzzle brands aren't just producing puzzles for fun but also contributing significantly to sustaining and enhancing the jigsaw puzzle industry. Their commitment to quality, from using high-resolution images to offering uniquely designed pieces, demonstrates their value to puzzle enthusiasts globally.
When looking for the best jigsaw puzzle to invest in, consider factors such as the quality of the puzzle pieces, the puzzle image, the reputation of the jigsaw puzzle brand, and the level of customer service they provide (such as dealing with missing pieces). Also, consider the price relative to the quality and longevity of the puzzle, as well as your specific interests or those of the person you might be buying the puzzle for.
Final Thoughts: Famous Jigsaw Puzzle Brands
In conclusion, whether you are new to the world of jigsaw puzzles or an experienced puzzler, the brand you choose greatly impacts your puzzle-solving experience. Brands like Ravensburger, Buffalo Games, Springbok, Cobble Hill, and Eurographics have set industry standards by offering premium puzzles with high-quality images, durable pieces, and innovative designs. With their distinct offerings, these brands cater to a broad range of interests and challenge levels.
The joy and satisfaction that come from completing a jigsaw puzzle are amplified when every component of the puzzle, right from the quality of the pieces to the resolution of the image, is top-notch. So, next time you decide to purchase a jigsaw puzzle, remember to consider these standout brands. Enjoy the journey of piecing together your puzzle, knowing that you have invested in quality, craftsmanship, and hours of enjoyable puzzle-solving.
Other suggested articles: